Lil' conundrum problem for the graybeards. We have 5 acres in the forest far removed from
The Grid
and we create our own power via Generator and trickle via Solar. We have two RVs with permanent snow roofs that have solar on top, plus two out-buildings (utility & storage) with more solar.
The two RVs are about 200 feet apart. There are three distinct charging systems: The primary RV is tied into the local solar and the Utility building. The Secondary RV to its' solar, and the Storage Shed is about 100 feet from the Primary RV and has its' own solar. The layout is close to an obtuse triangle with the RVs at the long base, and shed slightly closer to the Primary RV.
I believe the batteries used are 12V Deep Cycle, with two in series to make 24V. We have four generators: Each RV has its' own propane, plus two portables that run on gasoline (2kW and 7.5kW) that output both AC and DC.
I would like to unify these systems using 2-conductor that we can safely bury into the ground maybe a foot deep. We get about 3 feet of snow in the winter and runoff can be a bitch in the low areas, but the ground is pretty hard and I think a mobile trencher could get the job done fine in one day.
The question that I cannot workout is the wire gauge; I don't know enough about RVs to figure out what is reasonable. I can tell you that we run the generator whenever we do laundry, or pump water into the holding tank (via the Utility Bldg), and I think the RV generator kicks on if we run the microwave AND the coffee pot – which I think is the highest load on the land.
I know that there's not enough solar to keep the batteries charged; we have to run the generator for an hour minimum to keep the Primary RV up to snuff (traditionally done when we do laundry). The Storage Shed overproduces power, and the Secondary RV is only used when guests are there, so my thinking is to tie the systems together and share the load. Now we're back to the size of wire for the cable.
We also have a little stream that runs through the property but the drop is not very much as is the flow. I've toyed with trying to create a lil' hydro but I don't think it's worth the cost. Best drop we can get is 2 feet; I could get 3 or 4 upstream but my Mom would really have a hissy fit and probably take out a contract to erase my birthday if I messed with that purdy section filled with wildflowers. However that has always been a tantalizing source of 24/7 low-output power flowing at least 1 gal/s.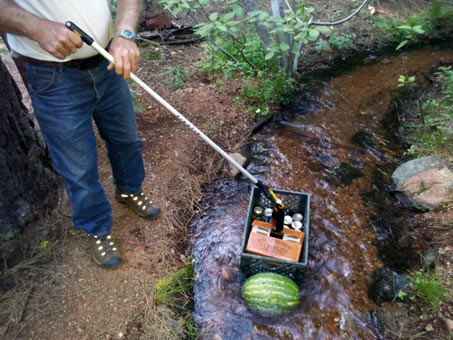 Life is tough when you have to reach for a beer
Sidebar related thread here.
Anyways, thanks for listening. Look forward to ideas.
Best,
KF